I. What is "bleaching natural hair to 613 blonde color''?
Among hair colors, 612 blonde color is regarded to be special because it requires meticulous bleaching and dyeing processes. Therefore, you should have a common knowledge of the bleaching technique before going into the practical process.
1. Definition: bleaching natural hair to 613 blonde color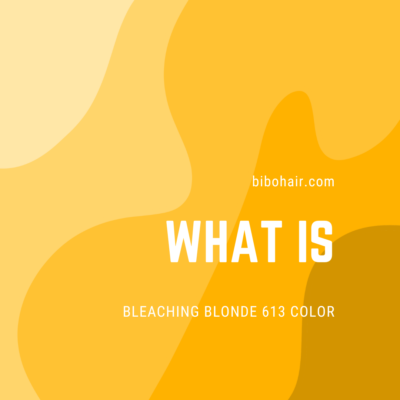 Bleaching 613 blonde hair is a method of using specialized chemicals to wash off your natural dark and turn it into white and bright yellow color. During the bleaching process, the dark pigment inside the body, melanin that gives the color of our hair, skin and eyes is removed. If melanin disappears,your hair will change from natural color to white, gray or blond. This transform is the foundation for dyeing hair to light colors, smoke and platinum.
Each individual has their natural characteristics, so bleaching hair is different. The darker your natural hair color is, the more concentrated detergent is applied to make the hair color vanish. Therefore, you should be careful in bleaching the hair to achieve the exact bloned 613 color. 
2. Three main types of dye to bleach natural hair to blonde 613
In the hair beauty industry, three main types of dyes to bleach natural hair to blonde 613 namely oil, cream and powder.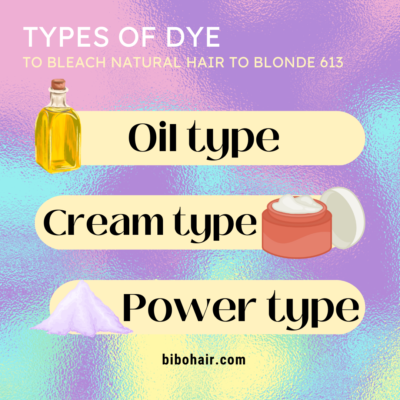 2.1. Oil type
A popular hair softener for brittle and gray hair

Slow, mild, lift up 2 levels

Bleaching the whole head

Less harmful 
2.2. Cream type
A very popular texture (because the hair is easy to brush, does not flow, and dries)

The conditioner in the cream shields the hair

The bluing molecule eliminates red and orange pigments

It is easy to apply to the hair due to the thickener in the medicine
2.3. Powder type
An oxygen-releasing inside agent that has a fast and strong effect when combed up quickly dries this bleaching powder out

Only bleaching new hair growth (easily irritated skin)

Don't bleach weak hair
II. Steps: bleach natural hair to 613 blonde color
Bleaching your natural hair to blonde 613 color is a challenge. But it works well without damaging your hair if you follow the following steps exactly. There are 4 basic steps: Preparation, Mixture, Applying and Washing.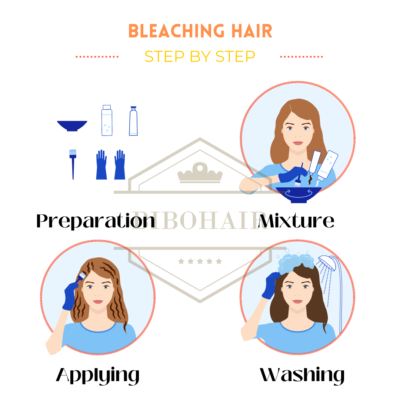 1. Preparation
This is one of the most important steps before bleaching hair to blonde 613 color. A few things must be prepared carefully. 
Bleach chemical: volume 20 and volume 30 peroxide.

Mixing bowl and brush

Protective gloves to avoid harming your hand 
Please keep in mind that brushing your hair thoroughly minimizes the tangle. You also buy prestigious chemical products to keep your natural hair and body safe. 
2. Mixture 
It's a good idea to follow the instructions on the label of the bleaching product in order to make the mixture. Normally, you need to add two parts of dye aid to one part of bleach. Using a brush to mix them well in a mixing bowl until you get a nice consistency (not too clumped or runny).
3. Applying
When you bleach natural hair to blond 613 color, you should separate your hair into small parts before applying. Thanks to this step, your hair will be bleached evenly without missing any section.
You will use the brush to gently apply the bleach mixture on each hair section. You should start from the ends and the middle of the hair length because it takes longer to lighten up. Let the bleach on your hair for at least 20 minutes and then apply bleach to the roots in order to ensure uniform colors. You should spend the maximum 30 minutes for the hair to bleach.
4. Washing
After waiting for 30 minutes, it's time to wash off the bleach with warm water. It's recommended to use a balanced shampoo and protein-balanced conditioner to to balance the pH of your scalp. Lastly, you may blow-dry your hair to see the result.
III. How to take care of 613 hair extensions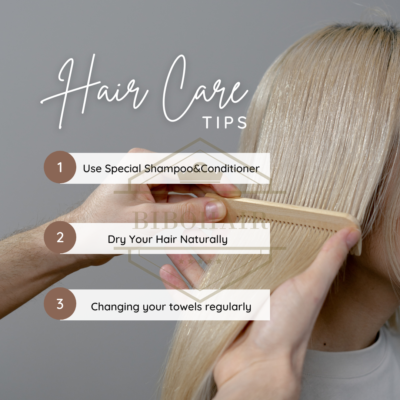 After bleaching hair to blond 613, your hair has experienced a strong bleaching process. Therefore, in some cases, the scalp can be easily damaged, not simply burnt. Some users face the bad situation in which their hair is possible to be shedding or brittle. These things lead to the fact that you have to change your daily routine a lot. You can take note of our tips to care for the hair after being bleached.
Using the shampoo and conditioner which is specialized for bleaching hair

Don't dry the hair so long

Changing your towels regularly to keep the scalp from bacteria 
IV. Should I bleach natural hair to 613 color or buy 613 hair extensions 
1. The pros and cons of bleaching natural hair to blonde 613 color by yourself
If your hair is thin and weak, we don't recommend  bleaching your hair to blonde 613 because it makes it become weaker and damaged. However, if you can't get the idea of bleaching hair out of your mind, you can consider two choices: bleach natural hair to blond 613 color on your own way or buy hair extensions from hair suppliers. Here are the details of the pros and cons of each way you should consider before going ahead. 
Pros:
Safe chemicals

Control the color that you want

Get the blond 613 color right in that day
Cons:
If you are clumsy, you might ruin the hair

Your hair can be damaged or dried out

Damaging your scalp, causing itching and bold.
2. The pros and cons of buying blond 613 color from hair supplier 
Pros
You don't need any bleaching product 

100% right color-blonde 613 color

You can choose various lengths from 8 to 30 inches with different textures.
Cons:
Processing and shipping might take 7-15 days

The possibilities of getting low quality hair from hair scammers
V. Where to buy quality hair that can bleach to blond 613 color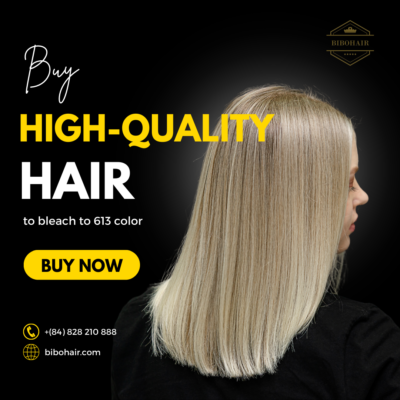 Hair extensions are a great replacement if you are unable to bleach your own weak hair to blonde 613 color. In the hair extensions industry, you can purchase hair extensions with a variety of textures and colors including blond 613 color from numerous hair wholesalers and hair stores. However, you should be cautious with hair scammers who try to cheat you with bad quality. Finding a famous and reliable hair company helps you reduce any risk. 
Bibo Hair Vietnam is proud to produce high quality Vietnamese hair and become a reliable partner with many customers around the world, especially in Nigeria. You can find the best hair extension that fits your demands about color, texture and style, including 613 blonde color.
Click here to see more Bibohair's products