Have you accidentally seen a girl with long and thick hair on the street or social media? How do you feel? Maybe you feel envied because your hair is weak and less voluminous. You can't freely style your hair or always go to a salon for bouffant hairstyles. However, growing beautiful hair is a challenge that involves both patience and genetics. Fortunately, the birth of hair extensions can help you increase the length and texture and achieve your desired look. There are various types of hair extensions for thin-hair ladies. In this blog, we'll introduce the top hair extensions for thin and fine hair that can bring you the most effective and natural-looking.
1. Hand-Tied hair extensions for thin/fine hair
Hand-tied wefts are the most favored wefts for all hair types, especially thin or fine hair. It is a type of extension attaching a weft or "curtain" of hair to your natural hair. No one can say "no" to this ultra-thin weft design because it has numerous advantages. The hand-tied weft is tremendously flat, flexible and lightweight without damaging your natural hair. Moreover, its strong and durable characteristics give you a chance to reuse it many times.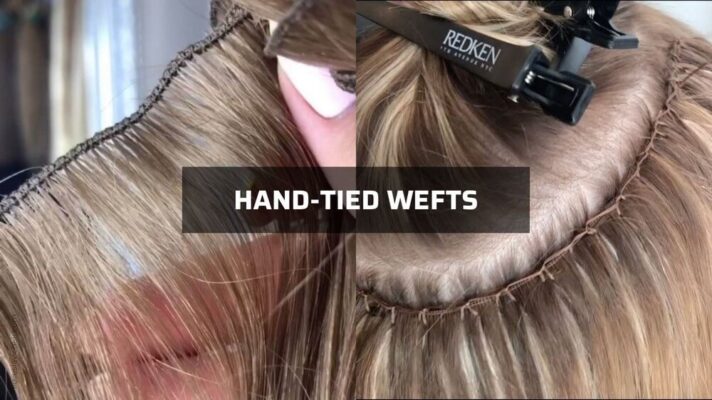 The installation of hand-tied extensions is easy but requires the hairdresser's carefulness and ingenuity. First, the stylist glides small silicone beads as a foundation onto the client's hairlines. Then, he or she will use cotton or nylon thread to sew securely hand-tied wefts through the bead. Once the hand-tied extensions are installed, they look and feel completely natural. For customers who like to color, curl or style hair extensions like their natural hair, hand-tied extension is a top choice.
In general, a hair stylist spends between 2 and 3 hours applying hand-tied weft extensions onto a client's full head. The hair extensions can last from 6 weeks to 8 weeks. You should visit every 2 weeks to check your application.
2. Tape-In hair extensions for thin/fine hair
Tape-in hair extension is one of the best choices for thin or fine hair. This type of hair extensions refers to 1 inch-wide wefts that are covered at the the top with a paper tab to attach to the hairline. Before applying, a stylist needs to peel the adhesive paper. Then, he will use two tape-in wefts to tape to your natural hair in a sandwich style. However, if you have very thin hair, the stylist can apply single-sided tape-in hair extensions which are unnoticeable.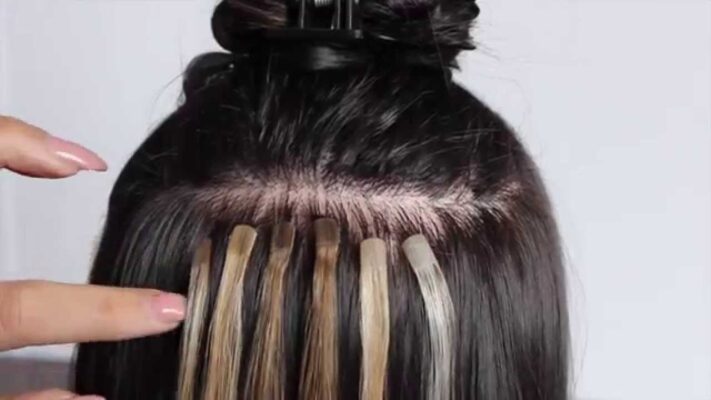 Tape-in hair extensions attract most ladies for some reasons. They are available in various lengths, colors and textures. Moreover, tape-ins help you achieve length, volume and many hairstyles which normally you don't dare to try. Due to their lightweight, they can blend into your natural hair without causing any tension.
Depending on how they're cared for and how fast your natural hair grows, tape-in hair extensions can last from 6 to 10 weeks after installation. Besides replacing the old tape wefts with new ones, the stylist can reuse them, even up to three times.
3. Halo hair extensions for thin/fine hair
Halo hair extensions are regarded as one of the simple, one-step to obtain the desired volume and length for thin/fine hair. If you are lazy going to the hairstylist, you can do DIY with Halo hair at home because you need to take a few minutes. Without clipping or sewing in wefts, you gently place hair extensions which are secured with a thin and invisible wire on top of your head. Halo hair extensions look like a headband. Then, you can let your natural hair hide the wire.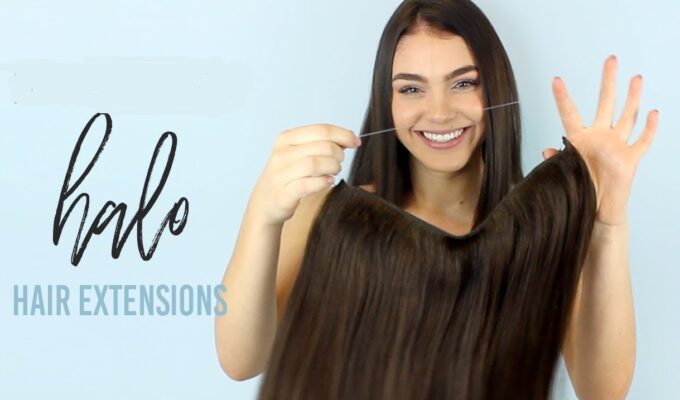 Why do lots of ladies fall in love with Halo hair extensions? The answers are very simple. They can suit all girls, especially those who have thin/fine hair. Thanks to the wire, the hair extensions blend into your natural hair to create a natural look. Halo hair extensions instantly help you achieve fuller and longer hair without damaging your natural hair. Finally, the installation is simple and time-consuming.
4. Things to consider before purchasing hair extensions
Many customers whose natural hair is thin or fine are so confused when choosing the best hair extensions. Many customers whose natural hair is thin or fine are too confused when choosing the best hair extensions for themselves. They come to us with many questions related to texture, color, quality and so on.
First, the thin/fine characteristics of their hair leads to their care on hair extensions' weight. It's a good idea to choose light-weight hair extensions in order to reduce tension and stress on your head. Second, hair extensions should fit your textures: straight, curly or wavy styles, which helps your hair look more natural after installation. Third, whether hair extensions can improve the length and volume or not is another consideration. Or how many grams they need to buy or what hair extensions cost.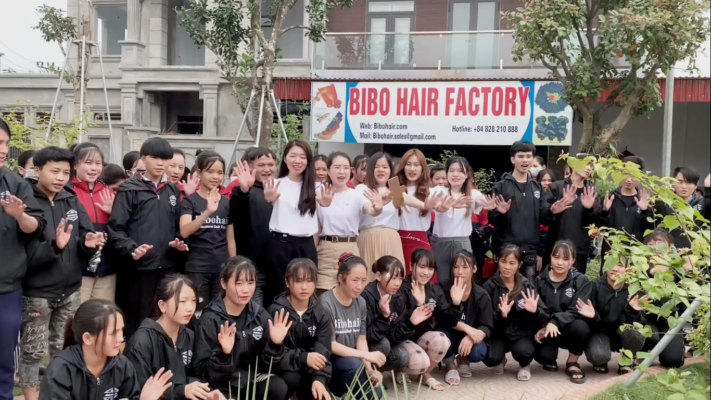 Purchasing hair extensions makes you feel stressed. Therefore, let Bibo Hair become your consultant. Our online staff is always willing to give you detailed advice. The best idea is to send us photos of your natural hair and your hair extension requirements. We can help you choose the type of hair extensions which is suitable for your thin/fine hair without damaging it.
Read more: Tape-in Extensions – Why I Should Buy Them?
For more information, please contact us to get the best wholesale price:
Website: http://bibohair.com
Fanpage: Bibo Hair Vietnam
Instagram: Bibohair_vietnam
– Ms. Clover –
Whatsapp: +84 86 870 8866
Gmail: [email protected]